Workshops and Concerts
Learn to use cultural arts to motivate and engage your community.

Art Makes Children Bigger
Los Cenzontles (The Mockingbirds) have created a powerful model of sustainable community development through the cultural arts in their San Francisco East Bay Area city of San Pablo for over twenty years.
Invite cultural activists Los Cenzontles to your college or community for "Grow Your Own" cultural arts workshops.
Artists, musicians and teachers from the acclaimed community organization Los Cenzontles Mexican Arts Center will come to your college, school or community setting with performances and workshops that include:
Traditional Mexican music, dance and folk arts hands-on instruction;
Lecture / demonstrations on connecting youth to tradition and youth and family development through participatory culture.
Facilitated screenings of Los Cenzontles documentary trilogy on tradition, transnational culture and arts education;
Multi-day residencies.
Design a Los Cenzontles visit to your specific community need. Fees range from $500-$10,000 depending on travel need and scope of workshop/performances.
For more information email claire@loscenzontles.com or call (510) 233-8015.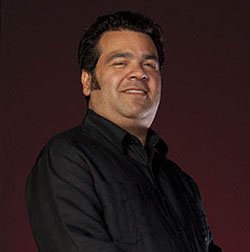 Eugene Rodriguez, Producer
Eugene Rodriguez received his Bachelor's and Master's degrees in music from the San Francisco Conservatory of Music in Classical guitar performance and studied humanities at UC Santa Cruz. He started youth group Los Cenzontles in 1987 and incorporated Los Cenzontles Mexican Arts Center in 1994. He has produced many musical CDs and was nominated for a Grammy for Best Musical Album for Children for his production of 'Papa's Dream' a bilingual recording with Los Lobos and Lalo Guerrero. Eugene has produced three documentaries for the Cultures of Mexico in California series with support from the U.S. Mexico Fund for Culture, the James Irvine Foundation and the Ford Foundation.
Eugene serves as board member of the Arhoolie Foundation. He has received recognition and awards that include the 2010 Local Hero Award from KQED Television, 2009 Community Leadership Award from the San Francisco Foundation, the 2009 Business Leadership Award from the San Francisco Hispanic Chamber of Commerce, 2002 California Arts Council Director's Award, the Contra Costa County Arts Commission Arts Recognition Award and three awards from the U.S. Mexico Fund for Culture. He served as a nominator for the Creative Work Fund and as a panelist for the Ford Foundation's Learning Meeting of Media, Arts & Culture (MAC) and Transnational Economic Justice Initiative (TEJI), the Ford Foundation's Arts International, the II Forum on The Cultural Dimension of Transnational communities, Oaxaca City, Oaxaca, Mexico, the Latinization of America conference at the Annenberg Center for Communication at the University of Southern California, the Immigrant and Refugee Artists in the SF Bay Area for the Northern California Grantmakers, the Regional Dance Development Initiative in San Francisco, the Support Systems for Immigrant and Refugee Arts Conference for the Fund for Folk Culture in Santa Fe, New Mexico, the California Arts Council Touring Roster, the L.A. Folk Arts Commission, the Contra Costa County Blue Ribbon Arts and Culture Planning Committee and the Art Learning Initiative for the Alameda County Office of Education.