About ValorLatino.org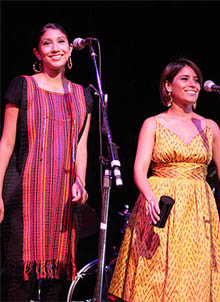 Valor Latino is a social media driven project that challenges you to express your vision for America's future through songs and videos that inspire pride and provoke thought. Add your voice by submitting creative material to us for consideration to be included on our site..
Valor Latino is facilitated by Los Cenzontles, a grass-roots artist-driven organization adding an essential Mexican-American voice to the global conversation of cultural traditions.
Los Cenzontles, pronounced los senn-sont-less, is an acclaimed ensemble of young adults and teens that promotes cultural pride and understanding. Los Cenzontles members are trained at Los Cenzontles Mexican Arts Center, an innovative grassroots arts organization amplifying the roots of Mexican American culture through our classes, events, media production and performances. Los Cenzontles has performed and recorded with Los Lobos, Linda Ronstadt, The Chieftains, Ry Cooder, Taj Mahal and Jaguares.
For more information call (510) 233-8015.
Video submissions may be sent to: valorlatino@loscenzontles.com
Contact Us
The Valor Latino project is spearheaded by the grass-roots community arts organization,
Los Cenzontles Mexican Arts Center, located in San Pablo, CA.
For general information about Valor Latino or
to learn more about hosting a workshop please contact:
valorlatino@loscenzontles.com

Los Cenzontles Mexican Arts Center
13108 San Pablo Ave.
San Pablo, CA 94805
Phone: (510) 233-8015
Toll Free: (866) 364-7887